Buzz Brass Sunday April 26 2020 at 7:30 PM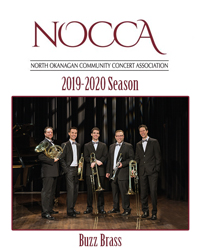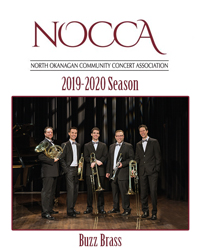 You've selected
Sunday April 26 2020 at 7:30 PM
×
Since its foundation in September 2002, Buzz Brass quintet has given over 1,500 chamber-music performances and won over more than 300,000 spectators in North America, Europe and China. Listeners and journalists alike are constantly singing its praises, as attested by the numerous awards, including the 2014 OPUS Award for "Concert of the Year – Multiple Repertoire", nominations and distinctions the quintet has earned both throughout Canada and abroad for its various concert programmes, shows and recordings. In the course of its productions, the group has built up a unique repertoire for itself while the exceptional originality and quality of its performances, and tremendously energetic and humourous stage productions elevates the ensemble to be among the best brass quintets in Canada. Since its appearance at the celebrated Edinburgh Festival Fringe, Buzz Brass has been shining forth overseas. The group represented Canada at the opening concert of the 15th edition of Meet in Beijing Arts Festival—China's most important international arts festival—and is preparing new tours of China as well as the release of a new recording.
Long overdue with their return to Vernon, these five musicians who produce an orchestral-like sound despite their diminutive number will bring their program 'Famous Inspirations' to our Performing Arts stage. Buzz Brass brilliantly displays all of its musicianship with this striking repertoire from the turn of the 20th century. Inspired by folklore, literature, nature or their peers, the composers of these works have in turn been able to inspire and touch audiences through time. The quintet has you rediscover these famous inspirations—first written for piano, organ, strings or orchestra—in original transcriptions for brass. The program contains such varied works as Claude Debussy's "Girl with the Flaxen Hair" to Aram Khachaturian's "Sabre Dance", Antonin Dvorak's String Quartet #12 in F major, Fran Liszt's "Hungarian Rhapsody #2" and many more! From the classics to the planets, Buzz Brass is a force of wind to be reckoned with and presents their music as "if it had been written for two trumpets, one horn and two trombones". "Simply exceptional". Catch the "buzz" at the Performing Arts Centre, April 26, 2020 at 7:30 PM.
Venue
Vernon and District Performing Arts Centre.
3800 33rd Street
Vernon BC V1T 5T6
Performance Notes
Sunday, April 26, 2020 7:30pm Buzz Brass - What's the Buzz? "Exceptional musicianship", that's what! Hear how a quintet can sound like an orchestra! In little more than fifteen years Buzz Brass has become world renowned for their energy, their musical transcriptions and their ability to communicate with the audience. Five amazing musicians blending and bending the sound of brass as never before.