Il Violoncello Italiano! Saturday March 28 2020 at 7:30 PM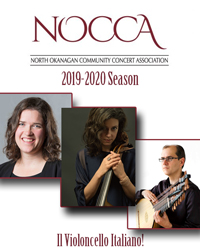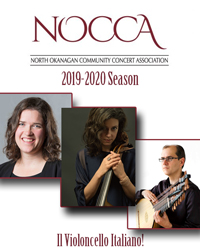 You've selected
Saturday March 28 2020 at 7:30 PM
×
Il Violoncello Italiano! celebrates the cello music of the Italian Baroque's best-known composer, Antonio Vivaldi, alongside his cellist colleague Antonio Vandini. The program also presents cello sonatas from thirty years before Vivaldi when Milanese cellist Angelo Maria Fiore wrote some of the very first cello sonatas, and more than thirty years after Vivaldi with music from Giuseppe Maria Dall'Abaco. The Trio will also perform a piece composed by current Canadian composer, Maxime McKinley. Included in the program will be a solo harpsichord Toccata by Scarlatti, and a solo archlute suite by Zamboni.
Elinor Frey Fascinated with the cello's origins and the creative process of new music, Elinor Frey plays both period and modern instruments. Frey's honors include a US-Italy Fulbright Fellowship where she studied baroque cello with Paolo Beschi, the SSHRC Canada Graduate Scholarship, and American Musicological Society and Canada Council for the Arts grants facilitating her work on Italian cello music. In recent seasons she has performed with Ensemble Caprice, Tafelmusik, Les Idées hereuses, and Bradamante, as well as with her quartet, Pallade Musica, grand prize winners of the 2012 Early Music America Baroque Performance Competition and second prize winners in the 2014 International Van Wassenear Competition in Utrecht.
Frey's debut album, Dialoghi, is titled for the solo piece written for her by Steven Stucky. Her two releases on the Belgian label Passacaille include the upcoming Berlin Sonatas with Lorenzo Ghielmi on fortepiano and the recent release, La voce del violoncello, praised for its "careful scholarship and brilliant layering of moods and tempos" (Toronto Star) and for the "honest, reflective beauty of her music making" (Strings). Her performance of this program was the winner of the public prize at the 2013 Utrecht Early Music Festival Fringe. Frey holds degrees from McGill, Mannes, and Juilliard.
Christina Hutten Organist and harpsichordist Christina Hutten has presented recitals in Canada, the United States, and Europe. She performs regularly with Pacific Baroque Orchestra and has appeared as concerto soloist with the Okanagan Symphony, the Vancouver Academy of Music Symphony Orchestra, and the Arizona State University Chamber Orchestra. Christina is also an enthusiastic teacher. She coaches and helps to coordinate the early music ensembles at the University of British Columbia and has given masterclasses and workshops at institutions including Brandon University, the University of Manitoba, Wilfrid Laurier University, Canada's National Music Centre in Calgary, and the Tafelmusik Baroque Summer Institute.
Funded by a generous grant from the Canada Council for the Arts, she pursued historical keyboard studies in Europe with Francesco Cera, François Espinasse, and Bernard Winsemius. She participated in the Britten-Pears Programme, led by Andreas Scholl and Tamar Halperin, for which she was awarded the Loewen Prize. Christina obtained a Master's Degree in Organ Performance from Arizona State University under the direction of Kimberly Marshall and an Advanced Certificate in Harpsichord Performance from the University of Toronto, where she studied with Charlotte Nediger. She is now a doctoral candidate in musicology at UBC.
Lucas Harris Lucas Harris discovered the lute during his undergraduate studies at Pomona College, where he graduated summa cum laude. He then studied early music in Italy at the Civica scuola di musica di Milano (as a scholar of the Marco Fodella Foundation) and then in Germany at the Hochschule für Künste Bremen. After several years in New York City, he moved to Toronto in 2004 and became the regular lutenist for the Tafelmusik Baroque Orchestra. He is a founding member of the Toronto Continuo Collective, the Vesuvius Ensemble (dedicated to Southern Italian folk music), and the Lute Legends Ensemble (a multi-ethnic trio of lute, pipa, and oud). Lucas plays with many other ensembles in Canada and the USA, including the Helicon Foundation (New York) and the Smithsonian Chamber Players (Washington, D.C.). He is on faculty at the Tafelmusik Summer and Winter Baroque Institutes, Oberlin Conservatory's Baroque Performance Institute, and Vancouver Early Music's Baroque Vocal Programme. In 2014 Lucas completed graduate studies in choral conducting at the University of Toronto, the degree having been funded by a prestigious SSHRC research grant not often awarded to performers. Upon graduating, Lucas was chosen as the Artistic Director of the Toronto Chamber Choir, for which he has created and conducted over a dozen themed concert programs. He has also directed projects for the Pacific Baroque Orchestra, the Ohio State University Opera Program, Les voix baroques, and the Toronto Consort. Last year Lucas became a Canadian citizen and is also the proud father of Daphnée (age 7).
Venue
Vernon and District Performing Arts Centre.
3800 33rd Street
Vernon BC V1T 5T6
Performance Notes
Il Violoncello Italiano! Bathe in the delights of Baroque and beyond. Renowned cellist Elinor Frey joins forces with harpsichordist Christina Hutten and archlutist Lucas Harris to present an evening highlighting the remarkable lyricism and brilliant virtuosity of the cello, coloured and enlivened by the accompaniment of the harpsichord and archlute.